Volet's Resort Dasmarinas, Cavite
posted by: Gretchen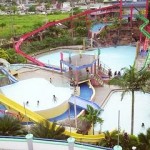 Looking for a good place to relax and have fun at the heart of the city? Are you tired of the night life and want something else but you don't want to go far? The City of Dasmariñas has a nice place for you and your family. There's a pleasant place where you can spend your holiday and vacation just within your reach. There's no need for you to spend long hours to travel to the place and you won't be hard up in finding it as it's very accessible for everyone. The place I am referring to is Volet's Resort Hotel and Restaurant which is located near Walter Mart, Dasmariñas. It is situated along Aguinaldo Hi-Way, Dasmariñas, Cavite.
The Services
Eduardo's KTV and Live Band
Ejj's Kitchenette
Evolution Gaming
Entrance Fee
Each person has to pay Php 170 for daytime while Php180 for overnight.
The Rooms
The accommodation includes the following hotel room rates:
Php1500: This type of room is good for 2 people.
Php1800: This room is good for 3 people.
Php2000: This room is good for 3 people.
Php3500: This type of room is good for 4 people.
The Swimming Pools
The resort has three big pools with exciting huge slides that really attract kids and those that are young at heart. The water is clean and refreshing.
Volet's Resort is really one good destination for families, friends, and even lovers. It's accessible and you can also go out for a spa treat before you go home. Dasma's popular beauty salons are near the resort. So what else would you ask for? Enjoy summer at Volet's Resort!
You might also like