How Air Conditioners Work
posted by: Dennis Aguilar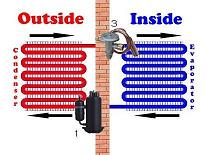 if you live in the hot part of the country, its probably hard to imagine surviving without an air conditioner.  Wondering how air-conditioner work ? Here's how it work.  Lear some air-conditioning basics.
The basic idea behind air-conditioner is evaporation. When a liquid evaporates, it feels cool. If you put alcohol in your skin, you will feel the coldness as it evaporates. And an air-conditioner contains liquid that evaporates just like the alcohol but it evaporates at a lot low temperature.
The liquid evaporates inside the set of metal coils and the liquid makes the coil extremely cold.   A fan then blows the air accross the coil and that air is what cools your house down. When it evaporates the liquid turn into gas. To turn that gas back into liquid, you use compressor. The compressor squizes the gas but its really get hot in the process.
The coils and the fan outside of your house lets the airconditioner blows the heat off the liquid. That liquid goes back into the house to evaporate again.
Its a continous cycle with a gas turning into liquid and turning back into gas and
make your house cooler.
You might also like