How to Know if your Girlfriend really Loves You
posted by: Gretchen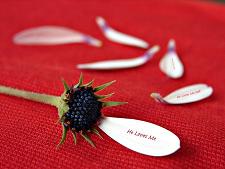 New relationships face different challenges.  You are still on the stage of getting to know each other deeper.  You start to establish trust. If you'd been in chaotic relationships before and you were once victims of love, you want your new relationship to be different. You want to have the assurance that your partner is loyal to you and that he/she is really in love with you.  As much as possible you want to be sure that the relationship will work by letting the love and trust grow.  How can you tell that your girlfriend / boyfriend really loves you?
How to Know if your Girlfriend Really Loves You ?
There are general apparent signs that your girl is really into you.  Check the following:
Your girlfriend stays in touch with you.  She wants to get updates from you and she wants to update you as well.  She informs you of her whereabouts.  Her day is not complete without a message or call from you.  She simply wants to maintain a communication between the two of you.
She wants to be with you all the time.  She wants to spend her vacation from work or school from you.  As long as she is free she'll be there to be with you.
She loves your scent (though you do not wear any perfume).  She loves to hug you and feel you.
Your girlfriend trusts you.  She gives you time with your friends once in a while.
She introduces you with her family and friends.  A girl who is in love wants you to be a part of her life and the people dear to her as well.
She expresses her love and care thru words and actions.  She tells you "I love you and I miss you."
She gets jealous once in a while but she still trusts you.
Lying and cheating are not on her vocabulary.  She's faithful to you and keeps no secrets.  She does not consider dating with someone else.
She can make impossible things possible.  She will find ways to get there.
She remembers your stories no matter how nonsense they are.  She also laughs with your jokes.
She remembers special dates and gives you something.
She knows your interests even if you did not directly tell her. She observes you.
She's honest.  She tells you about her past and her break up with her ex boyfriend.
How to tell if your girlfriend loves you?  Find out if these signs are shown by your girlfriend.  If your girlfriend shows how much she loves you in her own ways, love her in return.  Don't cheat on her and consider her as your future wife.
You might also like