How to Treat a Dog's Hot Spot
posted by: Feby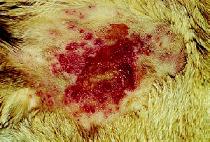 It is said that a dog is man's bestfriend. Yes, I definitely agree with that.  Dogs or puppies can be there for you unconditionally.  They can be your playmates when you are sad.  They could ease your tiredness when you got home from work.  They can be your exercise buddy.  But sometimes, our dogs or puppy can experience some conditions that can be bothersome for them even when we take care of them.  One of the conditions they could experience is a dog's hot spot.  Hot spot is a skin infection or inflammation.  What are the symptoms of hot spot ?   What is the cause ?   How to treat a dog's hot spot ?
Symptoms of Dog Hot Spot
hair loss
itchiness
Redness
Painfulness
Causes
Fleas or external parasites
Food allergies
Skin wound or scuff
Psychological problem ( stress or out of boredom)
Treatment
How to get rid of hot spot?  Just simple follow the following steps:
Trim or shave the area of the skin.  This can help if you want to heal the wound faster.
Clean the area with a gentle skin cleanser or anti bacterial soap.  Be sure that the soap you are using is mild for your pet.  This help to remove the bacteria in the hot spot.  You can also use a natural remedy for hot spots and that is to use tea as a wash or a compress to lessen the itchiness.
You have to be sure that your pet is free from fleas or other external parasite to remove itchiness in the area.
See your veterinary for the best medication for hot spots. It may include some antiseptic creams or some medicine which is taken orally.
If your dog or pet keeps on biting the area, wrap the area with a clean cloth.
Prevention
How to prevent hot spot from getting into your pets ? Just make sure your dog is always clean and free from parasites.   Be sure that you're feeding your dog with a nutritious food.   Give your pet some supplements.   Don't do things to stress your dog.
You might also like