Phoemela Beranda Revealed her 15-year old Daughter Kim (Photo & Video)
posted by: Dennis Aguilar
For 15 years she had hidden that she has a daughter and now Phoemela Beranda, a model-actress is just so happy after just revealing her 15-year old daughter to the world.
The daughter's name is Kim, she grew up knowing her grandmother to be her mom and Phoemela who is her real mother as her Aunt.
Until her grandmother died 4 years ago and Phoemela decided to tell the truth to her together with her uncle in a heart-to-heart talk. Kim Beranda was just 11 years old that time.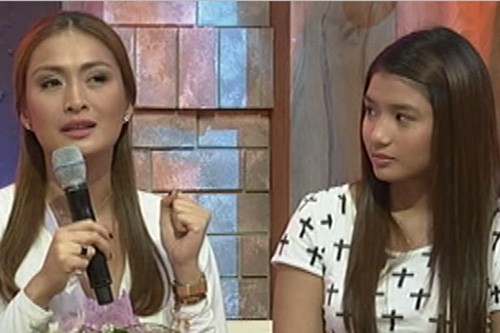 Explaining on the "Buzz ng Bayan, why she hid her daughter for such a long time Phoemela said that she was very young that time and on the height of her career so her mom decided to have her just hid the truth in order to protect her career. She was forced to stay for a few months in United States in order to hide her pregnancy.
When she came back,she told everyone that she was the Aunt of the baby and Phoemela seemed to forgot her daughter Kim and continued to have a sort of like a "single woman lifestyle". She said, she now regrets what she did and she said she should have spent more time with Kim and her mom that time.
Good thing, Kim Beranda her daughter said on the same interview that she has no ill feeling toward her real mom Phoemela and she understands everything. "I know what showbiz is." She said.
On the Buzz, Carmina Villaroel had Kim to sit beside her mom. She gave her mom
flowers and they embraced each other. Phoemela Cried hard and you could see a little tears in her daughter's eyes.  It was so heartwarming to see them. Kim said to her mom:
"I'm sorry that I sometimes I can be a little rebel. And I love you."
Phoemela Beranda is now making up for the lost time. She attends school activities and her daughter is so grateful for that. Kim said that she thinks  her father is not that important anymore to her life and she is contented being just with her mom.
"My mom is dad and mom to me." she said
Phoemela and Kim on the Buzz ng Bayan Video, Watch it below:
You might also like