Best Gift for Guys
posted by: Rowena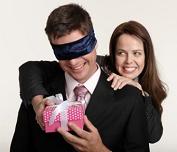 When looking for gifts for special men in our lives we cling to buy a unique and simple present for we would like to have the perfect gift for them of course. There maybe a lot of gift ideas out there but still that's according to their own preferences or maybe their interests too.  It's important to know these things before you go and look for them.  This will make it easier for you. These can be in any occasions either birthday gift, anniversary gift or maybe a wedding gift.
What can be the best gift for guys?  A lot of men love sports and it would be good if you go into this too.  One most popular sport is golf. It can be golf towel or golf shoes and bag. For those who love other sports such as basketball and baseball, give them an engraved baseball bat or basketball, it can also be a jersey of his favorite team in basketball.  For men who love fashion, try to give them new in style clothes, a designer shirt or jeans in their favorite colors.  Most guys do love gadgets, if it's okay with your budget, men would love to have one of these; mobile phones, iPods, or laptops but that's according to their age. This is best when given to guys below 30.  But for me, still the best gift for them is a homemade gift just like a CD of his favorite songs, a photo frame or an album or a journal of how you see him as a person and as part of your life, something that you made yourself with a documentary of how you did it.  That would be something special for a part of you is in there.  This holds a remarkable feeling to the heart of the person who receives it, a boyfriend or your husband.
Best gift for guys? Hmmm whatever your gift may be, what's important is it's from the heart.  This would be a unique the greatest gift for the person whom you truly love and care for.
You might also like
Best Gift for Sister
Giving gifts to your loved ones is one way of showing you care for them.  They feel that they are special...