List of Famous People with Bipolar Disorder
posted by: Rio Dianne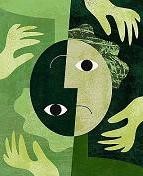 A lot of people have been looking for list of famous people with bipolar disorder.  It maybe because they wanted to see some inspirations out of those celebrities who have been affected with mental illnesses like borderline personality disorder, schizophrenia, and the most depressive disorder – bipolar disorder.
To touch a little about the topic, bipolar disorder is also known as manic depression.  This is a kind of mood disorder wherein sufferers experience remarkable shift in moods, altered physical and mental activities, and varying energy to perform activities of daily living.  The condition can cause much interference on one's personal and professional lives. In our post, we'll give you the list of some famous people with bipolar disorder.  Here are some of them.
Names of Popular People with Bipolar Disorder
Buzz Aldrin, astronaut
Hans Christian Andersen, writer
Ned Beatty, actor
Ludwig Von Beethoven, composer
William Blake, poet
Jeremy Brett, actor
Tim Burton, artist, director
Drew Carey, actor
Jim Carrey, actor
Rosemary Clooney, singer
Francis Ford Coppola, director
Jean Claude Van Damme, actor
Charles Dickens, author
Patty Duke, actor
Carrie Fisher, actor
Sigmund Freud, physician
Robert Frost, poet
Cary Grant, actor
Vincent Van Gogh, painter
Linda Hamilton, actor
Jimi Hendrix, singer
Victor Hugo, poet
Vivien Leigh, actor
Kevin McDonald, actor
Marilyn Monroe, actor
Mozart, composer
Edgar Allen Poe, writer
Robert Schumann, composer
Sting, musician, composer
Alfred Lord Tennyson, poet
Leo Tolstoy, author
Mark Twain, writer
Robin Williams, actor
Virginia Woolf, writer
And this is the list of famous people with bipolar disorder.  As you see, these popular celebrities who have history of the disorder, yet was able to show us outstanding talents.
You might also like
Dating Someone with ADHD
Dating someone with ADHD (Attention-Deficit Hyperactivity Disorder), ADD (Attention Deficit Disorder),...