How to Use Saw Palmetto for Hair Loss
posted by: Feby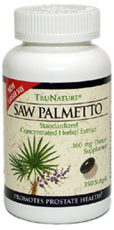 They say that we loss one hundred hair strands a day but too much of it, is a different thing.   Excessive hair loss is really bothersome. It can result to baldness in the long run.   It can ruin anyone's confidence to deal with other people.   Baldness is most commonly observed to men on their later years. On the other hand, woman may experience  loss but not to the point of going bald.   In this article we will talk about the possible causes of hair loss and other available herbal treatments such as shampoo and supplement.
Baldness is cause by different things like: hereditary, stress, poor diet, illness and major surgery.   In female, after giving birth you can actually experience this because of hormonal problems.
There are many alternative medicines or treatments that are out in the market.  One of the most popular supplements is saw palmetto.   Saw Palmetto is from the extract of palm plant in North America.   It is the counterpart of Propecia.   The active component of this plant is believed to grow hair. This is also one of the most versatile plants because of its herbal properties than can cure different problems like hair loss.  You may be asking How to use Saw Palmetto for regrowth ? Does saw palmetto really work?
It is a supplement so take it as any other supplements being taken. However, you have to make sure the right dosage to avoid overdose.
Does saw palmetto really work ?
Based from the reviews and forum about Saw Palmetto can really work. Study shows that it is an effective anti-androgen which helps balance the hormone that is responsible for regrowth. Other benefits that can be seen as a result from using Saw palmetto are:
Promotes hair-growth
Revives tresses follicles
Healthy scalp
Make the strands strong
Some of the Side Effects Been Reported Are :
Stomach pain
Bowel movement
Vomiting
Bad breath
Before trying Saw Palmetto it is better to see your doctor first to ensure the right dosage and to make sure that it is the right cure for your problem
You might also like