Metathione Glutathione
posted by: Rio Dianne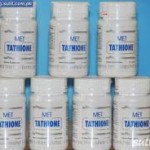 While other races strut their way to being tan, Filipinos, on the other hand, are fixated on going about having white complexion. Skeptical, it is. It's no wonder why skin lightening products are the most sought after keywords in the search engines. And when we say whitening pills, the results always come with glutathione and metathione.
We all know that glutathione peroxidase (GSH) is the master antioxidant in the body. This tripeptide provide benefits such as blocking the melanin responsible for pigmentation of the skin as well as boosting immune system, and preventing other conditions such as autism, cancer, diabetes, Parkinson's disease, and a lot more.
Metathione, on the other hand, is said to be a reduced glutathione which act as an antioxidant as well. Based on studies, reduced glutathione is way better to use to achieve desired outcome. Metathione has glutathione in it as well as other ingredients such as alpha lipoic acid, L-Cysteine, and ascorbate (Vitamin C).  In the Philippines, there are a lot of whitening capsules widely available in the market today and some of them are – Met Tathione, Lucida DS glutathione, Illuminax glutathione, Belo Nutraceuticals Anti-aging+ Collagen pills, Belo Immunocal, and a lot more.
Met Tathione is actually the one that has been receiving the most liked review because of its effectiveness. The whitening capsule is taken twice daily and results will be observed in two-three months time depending on skin's pigmentation. Taking it on a regular basis without missing the dosage will surely help you to whiten your skin.
In addition, there are no known side effects of the drugs. This can be bought in a variety of local health stores. For instance, this can be purchased at Mercury Drug store and the capsule price is Php2500.
You might also like
Belo Glutathione Pills
If you have dark skin, then maybe you've been wanting to have a lighter complexion. There are a lot...