Lemon Juice to Whiten Teeth
posted by: Gretchen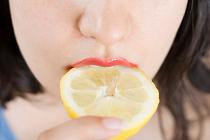 I've been searching for natural ways to get rid of teeth stains online and some of the methods I got include baking soda, lemon juice, salt, and peroxide.  Baking soda gained positive feedbacks as well as peroxide and salt.  However, this home remedy to whiten and bleach teeth has its downside.  It is also an effective whitener but it can be dangerous to your teeth.  It can destroy the tooth enamel and can rob off the calcium.
How to Use Lemon Juice ?
Put some drops of lemon juice on your toothbrush and brush your teeth particularly on spots that have yellow and black stains.  Wash your mouth with water after 5 minutes of brushing.
How Does Lemon Juice Work to Remove Stain ?
It works by removing the yellow, brown, and black stains.  These stains are often caused by drinking tea and coffee and smoking cigarette.  As it works to eliminate the tough stains, it also destroys the tooth enamel and calcium in the teeth.  Lemons are acidic and this ruins the teeth.  We know pretty well that calcium is really needed to have strong teeth.  Without enough calcium, your teeth will decay in time.  There's no doubt that it can be used as a whitener but it can also weaken them.  Now, it's your choice.  Anyway, there are many other inexpensive options out there.
Now that you know the pros and cons of using this method as whitener, think carefully before trying it.  You can have other whitening products which are also effective and a lot safer.  Better yet, see your dentist but prepare some bucks.
You might also like