How to Remove Keloid Scars at Home
posted by: Rio Dianne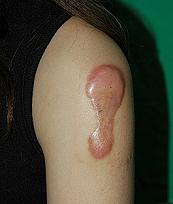 Apart from acne; scars are among the top skin care concerns of a lot of people.  For some, having to deal with scars every day are really troublesome especially in body parts where you can't hide them easily.  Say, keloid scars.  Some of its causes are due to wounds, acne, body piercing, and burns. Keloid scars are ugly to look at as they appear raised on the skin surface.  They can appear on any part of the body such as on ears, shoulders, and chest.  This firm, reddish and purple scarring on any part of your body is really a nightmare.  Do you have keloid that you've been wondering how to get rid of?  Maybe you are looking for remedies to remove keloid scars at home.  Or can there really be ways you can take for its removal?  Read on to find answers in your quest on how to get rid of keloid scars at home.
Home Remedies to Remove Keloid Scars
Here are some of the suggested home remedies which you can use on how to get rid of it at home:
Lemon juice works as a bleaching agent which can lighten the appearance of your keloids.
Coconut oil can also improve the condition of old scar.
Olive oil together with other herbs which are natural remedies to repair the skin.
However, these home remedies will only improve its appearance  and do not actually remove them. Also, a myriad of home treatment as well as over-the-counter medications can be seen in the market which claims to work for your problem and probably you might have tried a lot of them.  Sadly though, they do not embody their claims.  If you are really looking for ways to make it disappear from your skin, then you can opt for surgical procedures to completely remove them.
Using Medical Treatment for Removing
Surgery.  Through surgical excision, it can be removed. However, there is 50% chance of recurrence of keloids even after surgery.
Laser Scar Removal.  Laser is also the preferred methods to remove cyst and mole as well as removing hypertrophic scars.  This can work wonders for your skin as it removes the skin layer which has keloid and slowly revealing a new layer of your skin.
You can also start with steroid injections to shrink the scar.
For small keloids, you can opt for cryotherapy to flatten them.
Radiation scar therapy and silicon scar sheets can also be your options.
It is still best to consult your dermatologist before undergoing medical treatment and double check it with him to make sure that you are a good candidate for the options given on how to get rid of keloid scarring.
You might also like
How to Treat Acne Holes
Acne scars, acne holes…  These are but annoying blemishes on face.  The acne is gone but the holes...