How to Remove Pimple Scars – Get Rid, Cure and Stop Acne Scarring
posted by: Rio Dianne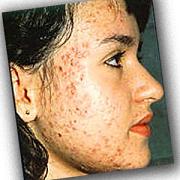 The incident of some form acne breakouts is very common among the teenage population.  It can be really annoying and frustrating to discover a red pimple forming on the tip of your nose after awakening out of a good night sleep. Much more is when you have to face a lot of people and a nasty breakout is likely to occur.  But the worst thing that could happen is when those pimples start scarring on to your face and produce pimple marks. But there is no need to worry; as a matter of fact there are ways on how to zap those zits out and how to remove pimple scars.
Usually, pimples and acne commonly appears on your face, neck, and back. For some people, the stage of acne production may pass but it might make one's face look dirty and leave some scars behind. There are already a couple of ways on how to get rid of pimple marks. You can choose between an inexpesive natural and dermatological method that would probably cost you to shed off some money.
How to Remove Pimple Scars- Dermatological Procedure
To get rid of pimple marks, you can undergo a dermatological procedure called "Dermabrasion". This is a method of shedding the epidermis of the skin by abrasion with the use of a machine identical to a sandblaster. They say that this method is really painful thus requiring a general anesthesia to help lessen the pain. The procedure physically gets rid of scarred tissue with the goal of giving it a fresher look. It takes moths before the skin regrows and heals pimple scars. However, this technique only works best on superficial scarring and is less effective on sunken scars. Try to contact your dermatologist to know more about this procedure.
How to remove Pimples Scars – the Natural Way
It is always better to opt for procedures that can help you stop pimple scarring naturally and here's how:
The most blatant form of pimple and acne prevention is good hygiene and proper skin care. Nowadays, it is a must to practice regular washing of the face with the kind of soap that suits your skin type best. But, be careful not to overdo face washing or else the skin will be dehydrated.
Consumption of a balanced diet aids in curing pimple scars. Eating nutritious food will help you heal pimple scars faster. Food rich in nutrients is also known to give skin a special glow.
Drink atleast 8 glasses of water. Doing so will help you remove those dead skin cells and aids in skin regeneration. Water has been proven as one of the best ways to remove pimple marks.
Vitamins are also essential to keep our skin be in top state. That's why it is recommended to use Vitamin E capsules for your pimple scars. You have the option to either apply it topically on the affected areas take it orally to achieve cell regeneration from the inside.
Another effective technique to help cure pimple scars is through the use of Rosehip seed oil. The oil has an anti-ageing effect helping in skin renewal. You can use the oil and massage it on your acne scars. It also well known that massaging encourages blood circulation and aids in breaking up scar tissue.
Those are just some techniques on how to remove pimple scars. Actually, there are a lot more resources that can help you get rid of those pimples scars. Whatever method you choose, we hope that we have provided some tips for you so you can get back that charm of the face. We wish you the best of luck regarding this issue!
You might also like
How to Treat Acne Holes
Acne scars, acne holes…  These are but annoying blemishes on face.  The acne is gone but the holes...