How to Have Younger Looking Hands
posted by: Rio Dianne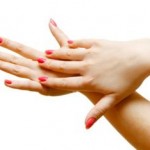 Apart from the skin on your face, your hands also make a good candidate for having wrinkled and cracked skin, and this is all because of the things that you do with your hands everyday.  Most women are very conscious on how their hands look like.  If you're one of them, here's how to have younger looking hands with the use of home remedies.
Put on gloves everytime you're going to work with your hands. Exposure to water or other elements may cause your hands to be rough and lose its moisture.
The skin on your hands is also thin like in the facial area, therefore another way to make hands look younger is to apply sunscreen to them when under the sun's exposure.
Application of moisturizing hand cream should also be done daily on how you can get young skin on hands.  So far, the one from Neutrogena is the best hand cream to aid in doing the task. Olive oil, on the other hand, is among the many home remedies that will work well without the pungent smell.
Anti-aging creams used on the face are also among the home treatment you can do to have younger looking hands.
For your fingers, your cuticles can be hydrated through various options of cuticle and nail oil.
However though, if you feel that your hands look terribly old for your age, you can seek other choices by seeking the help of a dermatologist.  Other treatment options may include dermabrasion, microdermabrasion, and laser ablation to reverse aging of the hands. But, let me remind you that these may be very expensive.
Every woman wants to have soft, young, and holdable hands thus help yourself by following some of our tips on how to have younger looking hands. Good luck!
You might also like