How to Clear Skin with Honey
posted by: Gretchen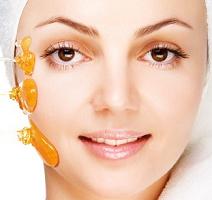 Nature has the power to heal your soul and your skin as well.  It can help you get rid of blemishes and acne scars. One of the best natural things that can be used as a remedy to your skin problem is the use honey.  It is safer, less expensive, and even more effective than the commercialized products. Moreover, it will give a smoother and fairer glowing skin.  Read on to get more tips and ideas on how to clear your skin with honey.
What is honey ?
It is a sweet yellow fluid produced by bees.  Bumble bees cannot produce large amounts of honey.  Honey just like Agave nectar, maple syrup, and molasses can be used as an alternative to sugar.  They are also used to add flavor to food products.  It is also used to treat minor health problems like cough.
How to Clear Skin with Honey
Prepare a jar of honey which has 100% pure unfiltered and unprocessed honey. When you go to the grocery store, pick out a honey face wash.  Be careful and check the labels on the jars.
Now it's time to cleanse your face. Wash your hands with soap and water.  Use a clean and warm wash cloth and put it over your face to make your pores open.  Take a small amount of honey and rub it slowly all over your face in circular motion.
Leave it on your face for about 10 minutes to allow the it to soak into the pores of your pores and kill bacteria.
After 10 minutes, wash your face with warm water and then cool water to close the pores. You can do this 3-5 times a day to achieve a healthy and clear skin.
This natural remedy works well with pimples, redness, and acne scars.  If you have these problems, then try this. After all, there's no harm in trying plus you can save big!
You might also like
How to Treat Acne Holes
Acne scars, acne holes…  These are but annoying blemishes on face.  The acne is gone but the holes...