Hairiest Person in the World
posted by: Gretchen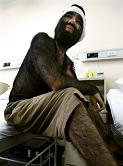 Everyone is unique.  We differ in many ways.  We have the so-called individuality.  Some people are tall while other people are short.  Some are hairless; others are full of hair.  We have the world's fattest person and we have the world's hairiest person. Have you ever wondered who the hairiest person in the world is?
Let's get to know the person who holds the Guinness Book of World Records title of being the world's hairiest man alive.  He was officially named with the title in 2002.  His name is Yu Zhenhuan, a man from China.  It might sound unbelievable but 96% of his body is covered with hair.  He sports an average of 41 hairs per square centimeter of his skin.  Can you imagine that?  This condition is called atavism.  It seems like he is destined to be at the circus for entertainment.
Yu Zhenhuan's Career
At the age of six, he starred in his own film, "A Hairy Child's Adventure." After being named as the hairiest person in 2002, he pursued a career as a rock star after mastering the saxophone and guitar.  He even made an attempt to be a part of China's Olympic build-up.
His Challenges as the Hairiest Man on Earth
Having excessive hair, he suffers from many problems like inferiority complex and difficulty in finding a partner who can truly accept him for who he is.  He feels like he is the ugliest and scariest man ever born because he is hairy.  He said to one of his interviews that he feels like King Kong who is hideous in appearance but with a good heart. Although he has a challenging condition, he doesn't believe that this should be a hindrance in finding his partner.  He is very positive that he will meet his soulmate someday.  In addition, he also had to undergo five surgeries to remove hair from his ears and nose.  He also had his gums repaired which threatened his teeth.  Good thing, he has his family to support him.
On the other hand, two brothers from Mexico tried break his record.  They claimed to be hairier than Yu.  The pair share condition which is called hypertrichosis has also become known as Werewolf Syndrome.  Mark Dolan can attest to his condition.
You might also like
How to Date a Black Man
For most people interracial dating is a big deal.  It is an issue.  This is the reason why parents...