Traveling by Train in Italy
posted by: Gretchen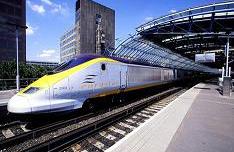 Traveling to Italy is fun because of the breathtaking sights that can be seen around the place.  Once you're there, it is even more fun to travel by train to be able to have a better view of the attractions.  It is the best choice to visit large cities.  The railway coverage including the railroad of Italy is good.  Traveling by train in Italy is also a lot cheaper compared to other countries that surround it.  Just like in other places, trains here can get crowded particularly during rush hours but if you are patient enough then you can bear the discomfort.
What are the Types of Train in Italy ?
Eurostar trains (ES): These trains are the pride of the FS fleet.  These modern trains are high speed, fast and comfortable.  They connect some of the large cities in Italy.  They have the most expensive way to travel but sometimes they have special offers for cheap tickets.  They are air-conditioned so you will be very comfortable.  There's a first-class section of the train and passengers will be provided with drink, snack, and newspaper in the morning.  All seats are numbered and seat reservations are required.
Intercity (IC): The trains connect the places that ES does not reach.  The tickets are also cheaper.  They are also less comfortable and slower compared to ES.   Some services are not always reliable.  Reservations can be optional.
Regionali (R). These are local trains that run around school and work schedules.  They are cheap but are not so comfortable.
You can also use eurail passes or fares to avail bigger discounts.  You may also want to travel around the country by subway.  If you want your trip to be private then you can rent a car but it will cost you a lot.  For travel deals visit trusted websites that offer tour packages.  Enjoy your vacation in Italy!
You might also like