Top Ten Most Visited Cities in the World
posted by: Gretchen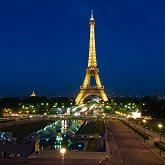 I was actually thinking of having a vacation but couldn't make up my mind because there are many beautiful cities or places that I'd like to visit.  I thought of searching on the net to get ideas.  I came across with the most visited cities in the world.  I'd like to share them to you.
Top Ten Most Visited Cities in the World (random list)
Paris:  This is one of the cities that enter to anyone who thinks of a Europe vacation.  It is just full of splendid architecture, romantic places, art galleries, and a lot more.  Of course let's not forget the Eiffel Tower, the catacombs and the Notre Dame.  Visit other towns of France to make your tour even more exciting.  There are approximately 15.6 million visitors a year.  That only shows how people love Paris.
New York City:  Who would forget the Big Apple in America?  Getting there is an ultimate experience for anyone.  You'll get to see Statue of Liberty, empire State Building, Central Park, Times Square, Rose Center for Earth and Space, and many more.  It has an estimated 9.5 million visitors a year.
Singapore:  This successful city is now becoming one of the favorite tourist destinations in the world.  Feast your eyes with its attractions like Universal Studios, Marina Bay Sands, colonial monuments, and others.  It has estimated 10.1 million visitors a year.
Hong Kong:  This is the place where you can say that " The West meets the East".  They say it has the world's best public transport.
Bangkok:  This famous city is a place where ancient world meets modern lifestyle.  You can see here beautiful Buddhist temples. Shopping is also a way less expensive here.
London:  This is one of my favorite popular European cities.  You will never get tired of this gorgeous city with sceneries like London Eye, Oxford Street, Covent Garden, etc.
Istanbul:       You'll see there the famous Hagia Sophia, the Grand Bazaar, and the Blue Mosque.
Dubai:  It is the home of Burj Khalifa, the world's tallest building, Palm Islands, the world's largest man made islands, and Burj al Arab, the world's most expensive hotel.  Enjoy its large sand dunes, as well.
Rome:  Go and try the great Italian wine and experience a tour at Vatican City Roman Coliseum, the Pantheon, too.
Shanghai:  This is the largest city in China. Experience Chinese culture entangled with Western culture.
There you go! So which of them fascinates you the most?  You might also check out the list in Forbes.  Visit its site and enjoy!
You might also like
The Real Life
When we we're young we cry to the smallest of fault and reproach. Our sense of self is weak and...