Star City Entrance Fee
posted by: Gretchen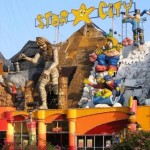 Star City is a favorite destination of families who want to have fun with their kids. It is located in Pasay City. Star City is not just for kids, but it is also for those who are young at heart. It brings out the child within you and you just can't help but scream out of fun and enjoyment. Well, having fun is not just for kids but it is for everyone. You are free to enjoy what kids do. Once in a while you need to unwind and just leave your worries behind and forget them even for a while. Star City theme park is there to amuse you. You can go there anytime of the year. You don't need to wait for "fiestas" to have carnival and get an exciting and thrilling ride.
Thrilling Rides at Star City
Here is a list of some of the rides and attractions that you'll find in the park:
Zyklon Loop: This is the first imported 360-degree loop coaster in the Philippines. This will definitely turn your stomach upside down.
Grand Carousel: This is also the country's first double decked carousel.
Sky Flyer: Do you want to experience the fun of flying? Then take the challenge! Try the newest ride from Star City!
Little Mermaid Boat Ride: Experience a tour inside the lagoon-like pathway.
Wacky Dragon: This is perfect for the whole family.
Entrance Fees (2010-2011)
Prices of package vary from one another. Here is a list of the entrance fees:
Entrace Fee: Php 60
Entrace Fee + 3 Rides: Php 250
Entrace Fee + Ride All You Can: Php 300
Dino World: Php 100
Entrance Fee + Ride All You Can + Snow World: Php 375
Entrace Fee + Ride All You Can + Dino Island: Php 375
Entrance Fee + Ride All You Can + Snow World + Dino Island: Php 475
Visit the website to check the schedule of the park. Try also the games featured but I am not sure of the payment or fees. You can also try Enchanted Kingdom and Manila Ocean Park. They feature other attractions. Come to the Phil. and have fun at low prices!
You might also like