Most Visited Places in California
posted by: Gretchen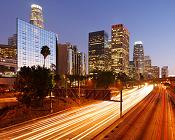 One of the largest states in the US is California (CA).  It is called the Golden State from the gold rush way back 1849.  What makes it famous is that it is home to more than 135 National Historic Landmarks which include Hollywood, Santa Barbara, Silicon Valley, and Napa. People from different parts of the world go to the Golden State to see the landmarks and to have a wonderful vacation in its beautiful beaches and forests.
Most Popular Destinations in California
Tourism is California is concentrated around San Francisco, San Diego, Los Angeles, San Jose, Long Beach, Sacramento, Fresno, Santa Ana, Oakland, and Anaheim.  Now let's see why tourists get attracted to the enumerated places above.  Take a look at the following:
Los Angeles:  Feast your eyes with the attractions that include Getty Center, Griffith Observatory, Olvera Street, Los Angeles County Museum of Art, Watts Towers, and a lot more.
San Diego:       If you are looking for beautiful places, San Diego has Theme parks, Belmont Park, San Diego Museums, USS Midway Museum, Birch Aquarium, Seaport Village, Spanish Village, Balboa Park, and many more.
San Jose:  Some of the things that magnet tourists are Plaza de Cesar Chavez, Lick Observatory on Mt. Hamilton, and Burrell School Winery.
San Francisco:  Golden Gate Bridge, Japanese Tea Garden, Exploratorium, and Fisherman's Wharf are some of the favorite sights of visitors.
Long Beach: Are you fond of outdoors activities?  Visit Long beach and enjoy miles of breathtaking waterfront by bicycle, blade, or foot. You can also have fun with kayaks, jet skis, boats, and wind surfboards.
Sacramento:  The place has Fairytale Town, Funderland Park, Sacramento Zoo, and Sutter's Fort.  These are the must-see places in Sacramento.
If you want to experience Californian culture, then book your flight to these cities for you to enjoy your next vacation.  Travel and visit the beautiful tourist destinations and you'll appreciate the world more.
You might also like