How to Travel with a Suit
posted by: Gretchen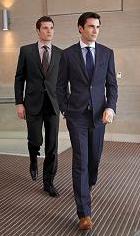 Wearing a suit or tux makes men look professional, decent, and handsome.  Men create the image of a good businessman everytime they wear this kind of clothing.  But the purpose is defeated once the suit is wrinkled during a flight or any means of traveling.
In order to avoid this embarrassing situation, you have to be aware of the steps that you can take to save your tuxedo from being wrinkled.  Take a look at the following tricks:
How to Travel with a Suit
Place 3-5 sheets of tissue paper (paper that comes with gifts or from the store) between any folds you make to soften the pressing of the folds into the fabric.
Master the art of rolling if you often travel with a suit.  Here is how you do it.  Lay the clothes on top of each other carefully to achieve your desired folds.  Now roll the clothes from the waist downwards then slot them in your suitcase.  Done!
Another trick is to create a cushion for your delicate clothes or costume like your suit to prevent wrinkles.
Avoid overstuffing your suitcase.
Use garment bags as much as possible.  There are bags that have some device for longer garments like suits.
Use a wire hanger with a plastic shoulder support.  Place the pants of the suit on the hanger and then hang the jacket over the pants.  Put dry cleaner's plastic over the suit then pack the suit out flat.  The arms of the suit jacket should be placed on top along the side of the edge of the coat.
Now you don't have to worry if you visit and go to other places.  You can fly with confidence that your suit is perfectly fine once you get there.  You can enjoy your trip on a plane if you are confident.
You might also like