How to Save Money on Travel
posted by: Gretchen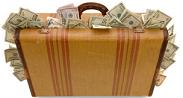 Do you want to travel and visit places but still observing frugal living ?  Well, you can do it.  Traveling can get really expensive but its costs can be cut down if you are wise.  There are steps that you can take in order to save money on travel.
Ways to Save Money on Travel
Plan in advance.  Planning helps a lot so you can save money.  Plan the itinerary and everything.
Do not visit other places during peak seasons.  You will not get cheap accommodations and flights during these seasons.  Airline tickets are pricey.
Travel light.  Doing this makes things easy and you also avoid paying for excess baggage.
Airline tickets.  Visit the websites of airlines and check for cheap flights and deals.  Go for package deals with hotel inclusion.  If you are lucky enough, you can avail of discounts and you'll save a lot of money.
Use coupons to get a discount.
Look for hotels that offer a refrigerator in your room.  This can let you save a lot for food expenses.  You can buy food items from a grocery store and you won't have to dine at the hotel restaurant.
Check hotel inclusion and make sure that your stay at the hotel will include breakfast to avoid paying extra charges.  Look for cheap hotels online.  In paying for your booking, use your credit card.  It is better than paying in cash.
Sign up for discount programs from airlines and hotels.  This will let you purchase tickets and stay at hotels at a reduced price.  But this will be base on how often you purchase from the same company.
Bring with you crackers, snacks, protein bars, and bottled water.
Instead of renting a car, take the trains for better sightseeing.
Check for currency exchange before purchasing tickets.
For a cruise vacation, travel during the low or shoulder seasons.
Enjoying your vacation does not mean that you have to spend much.  You can still have fun on your frugal travel.  Consider your financial status with today's economic condition.  Do anything so you can stretch your dollar more.
You might also like