How to Pack for Air Travel
posted by: Gretchen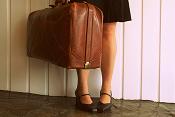 Are you a traveler and you are always get charges for your excess baggage? Are you a traveler who wants to get some tips to avoid hassles like violating airport rules?  Traveling by plane requires you to follow some rules and to avoid some things for your convenience and safety.  Let's learn the art of packing for air travel. Read on.
Packing Tips / Guidelines for Air Travel
Learn the current airport security rules so that you can anticipate what's going to happen and you know what things to include in your suitcase or packaging box.
You need to know that there's limitation for liquids.  You can bring with you liquids and gels for as long as these are in 3-ounce or small containers.  They don't allow large containers that are partially full.  All gels, liquids, and aerosols must be put in a single, zip-top, quart-size, clear plastic bag.  Remove this kind of bag from your carry-on luggage and place it in a bin on the conveyor belt for x-ray screening.
Do not include your camera and film in your bag that will pass through x-ray machines to avoid damage.  Put them on you backpack or carry-on bag.
Your carry-on is limited to one bag plus one personal item.
Don't bring suspicious things on board to avoid inconvenience.
Don't over-pack your bag so the screener will be able to reseal it easily. Spread your contents over several bags. This will also help you keep your clothes from wrinkles.
Do not pack books and other documents on top of each other. It's better to spread them out throughout your bag.
It's better to visit places if you are comfortable with your baggage. You're going to enjoy your vacation more.  If you stay in a hotel, don't leave your valuables in your room. Enjoy flying!
You might also like