Best Places to Visit in Virginia
posted by: Gretchen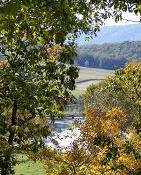 Going on a vacation?  Go to Virginia and explore the beautiful spots and things there! It can be the perfect place for you to enjoy life more.  This post will give you the famous tourist attractions in Virginia.
Must-see Spots in Virginia
Here is a list of the places where you can enjoy your vacation in this part of the world.
Virginia's Explore Park: It is located on the Blue Ridge Parkway Visitors or tourists can see the gallery or exhibits for free at the visitor center.  However, you have to pay if you want to visit Outdoor Living History Museum and other outdoor activities.  This is also the best place for you to experience the Virginian way of life.  The park also features 10 miles of mountain bike trails, 6 miles of hiking trails.  You can also fish, kayak, and canoe in the Roanoke River of West Virginia.
Oatlands Plantation: The things that you will see here include a beautiful rolling farmland, a stately mansion, exquisite gardens, and a storage area of more than 200 years of American history and culture. This place is a national Trust for Historic Preservation site which was built in 1804.  Don't miss this place and discover the history of the place and its personalities.
Abby Aldrich Rockefeller Folk Art Museum: The museum showcases American decorative furniture, vanes, weather, quilts, coffee pots within 19th-century domestic interiors. It also has folk paintings, needlepoint pictures, and rustic sculptures.
Historic Jamestown: This place is the site of the first permanent English settlement in America.  You will enjoy a walking tour with the assistance of a National Park Service Ranger.  You can also watch real life archaeologists hard at work revealing the past.
Virginia Living Museum: This is one of the cool places and attractions for nature lovers. It offers a unique combination of nature-from a zoological park to a planetarium. The botanical gardens will truly amaze your eyes.
You can also travel from Richmond to Virginia Beach by car and enjoy the sights along your way.  I hope your trip will be a wonderful one!
You might also like