Best Places in Thailand for Honeymoon
posted by: Gretchen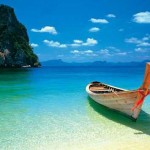 Thailand has been a favorite tourist destination of most foreigners who go on a vacation.  Aside from its beautiful landmarks and palaces, it is also a great place for shopping. The goods there are inexpensive but with good quality. Your money can really go far.  Aren't you attracted to visit it? I'm pretty sure that after learning the beautiful places there, you'd pack up your things and fly to Thailand.
Honeymoon Spots in Thailand
Do you want a romantic getaway after your wedding?  Go to Thailand!  Thailand has romantic places for your honeymoon.  You can have it at beautiful beaches, in the mountains, or in big cities.  It has the things that will make your honeymoon unforgettable and perfect.  Pay attention to the following:
Phuket:  This place is very famous for world's best beaches, best diving, and best swimming.  The beaches there will truly create a romantic ambiance for lovers. Aside from the white sandy beaches and blue ocean, you will also enjoy the fresh seafood offered by the restaurants and five star hotels.  There area also romantic little cafes which are really designed for lovers.  For a more adventurous vacation or trip, take a boat to see James Bond Island and the sea gypsies on their floating island.  If you want traditional music, a local Thai band is there to keep you entertained. You can also take a walk on the shore in the moonlit.
Chiang Mai:  If you are not fascinated with the beach and you want to have fun in the city, them Chiang Mai would be a great choice.  You can have elephant camp, trekking in the mountains, raft riding, and visiting hill tribe villages.  If shopping makes you happy, Chiang Mai has the umbrella factory where you can get cheap souvenirs.
Bangkok:  It has a good combination of the best things from the east and the west.  Visit the famous Wat Phra temple or eat at one of the city's street stalls.  If you want to experience the Southeast Asia's largest outdoor market called Chatuchak, then you are very free to shop with more than 14,000 stalls.
Hua Hin:  This is the choice for many Thais.  It has a lovely little fishing village that offers romantic villas and hotels, horseback riding on the beach and the freshest seafood in restaurants. There are also romantic cafes, cool art galleries, and an exciting nightlife.
There are a lot of cool places and sites in Thailand that's why many honeymooners are fascinated with its beauty and hospitality.  It's one favorite choice of brides for a wonderful honeymoon tour experience.  Enjoy your honeymoon!
You might also like