Best Hiking Places in the World
posted by: Gretchen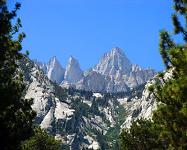 Are you an adventurous person?  Do you always search for thrill and fun out of extraordinary things? What kind of adventures are you most interested in? Are you into backpacking, kayaking, camping, rock climbing, or hiking? Is hiking your cup of tea? Where is your favorite place for this activity?  How about trying other places?
Here is a List of the Best Hiking Places in the World.
Mt. Whitney, California. Overnight or long day hike requires a permit to be obtained through the forest service.  If you are lucky to get a permit, then you will enjoy the breathtaking views in the state of California.  The San Francisco Bay Area offers excellent hiking trails, too.
Inca Trail, Peru.  The most popular trails by far are those that lead to Machu Picchu.  The most traveled hiking trail is the "Classic" that starts in Cuzco.  You will get to see the ruins of Patallacta, the Incan tambo of Runkuraqay, and a view of Sayaqmarka.  You will also see lakes, rivers, and lush vegetation.
Mount Kilimanjaro.  It is the tallest free-standing mountain in the world.  You can hike it in 6 options-Machame, Rongai, Marangu, Lemosho, Shira, and Umbwe.  It is going to be a great experience.
Zion Narrows, Utah.  This part of the US is great for hiking.  Hikers will surely love the beautiful scenery of trekking through Zion narrows.  Hikers will also see the "Wall Street."
Annapurna Circuit.  It is the world's 10th highest mountain.  If you choose to hike here, you wil pass through the regions of Manang, Lamjung, Myagdi, and Mustang.  Lamjung and Magdi regions have subtropical valleys and terraced farming.  Great sight!
North America has great places for exciting outdoor activities.  Go hiking and you will see what's happening in the cities of the world! Enjoy!
You might also like
Top Scary Places to Visit
People would normally avoid going to places that have scary stories, videos, and pictures.  However,...