What Sign is a Good Match for Scorpio
posted by: Gretchen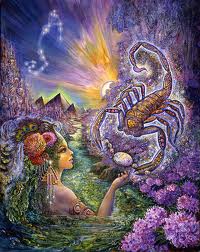 "It is only with the heart that one can see rightly.  What is essential is invisible to the eye." This is a line uttered by the fox in the Little Prince by Antoine de Saint-Exupéry.
Finding for the best love match of a certain person is hard.  No one can tell. The heart decides for the perfect match.  The eyes become blinded once you fall in love. It's the heart that rules.
However, for the sake of those who have faith in zodiac signs in astrology, I have thought of talking about the best love match for Scorpio.  What sign is a good match for Scorpio?  Let's try to see the love compatibility of Scorpio to the other star signs.
Characteristics of Scorpios
Scorpios like sincere and honest people. They will not tolerate dishonesty. So do not tell a lie about anything.
They want people who show genuine compassion for them particularly when they are in distress. Don't laugh at their misfortunes.
They appreciate people who have strong spirit. Those types who can endure hardships. Don't show too many weaknesses.
What Sign is a Good Match for Scorpio
The best astrological matches for Scorpio are Cancer and Pisces.
Cancer-Scorpio Match: Cancer is a good love match for Scorpio because crabs have the tendency to swim in deep waters which symbolize emotions. Crabs also have a real compassion for people in need.
Pisces-Scorpio Match: Pisces people can lighten the intensity of Scorpio because they have the easy-going attitude.
Virgo, Taurus, and Capricorn can also get along with Scorpio. On the other hand Scorpio and Sagittarius zodiac signs do not make a good relationship. Love compatibility of Leo and Sagittarius is also pretty difficult.  For Aries and Scorpio compatibility, there's something sexy about them because they have high sex urges.  Find your perfect match now! But remember to use your heart and do not just rely on signs.
You might also like