How to Seduce your Girlfriend
posted by: Gretchen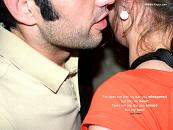 Seducing your partner is an art that you must learn by heart.  It's not a thing taught in school but you just learn it through experience and by using your common sense.  You just need to find the weakness of your partner. Once you discovered it, everything will fall into its right place.  You'll get what you want with flying colors.  Most guys are expert when it comes to this thing and so sometimes they even get their girlfriend's sister or friend to bed.
For few men who think they are not good at it, then keep reading because you will learn some ways to ignite your woman's sexual fire.  You'll get her to bed with the following:
How to Seduce your Girlfriend
Seducing starts with dating.  Impress her on your date.
Most girls are emotional in nature. Girls want to feel they are loved. Make her feel she is special.
Be sweet and romantic to her.  Give her love notes and flowers, most especially when you live together.  You cannot do the art of seduction in just a minute.  However, there are girls who easily give in if they are really into you.
When you are together, whisper words of love to her ears.  Tell her how much you love her.
Avoid being too obvious that you want to take her to bed. She may think that you are just after her body. If this is the case, the more that you will find it hard to get her.
Hold her hands. Caress her while you kiss. Try to discover her weakness. But of course you need to be a gentleman. She'll make love to you if she gets turned on with your touches.
Offer her a massage to make her feel relaxed. Your hands are your weapons to win her. You can also do this to your wife when she gets home from work.
You can also attract her by saying you love every curve of her body. Tell her that she's sexy and hot. Tell her she's even hotter than your ex girlfriend.
Be neat and make sure that you smell good. She will stay away from you if you smell bad. Spray cologne if you are into seducing her.
Wear something sexy to show your masculinity.
A real man doesn't only look for vulnerable girls who can fulfill his sexual desires but searches for the woman who is willing to build a home with him. Women deserve love, respect, and security.
You might also like