How to Make Guys Jealous
posted by: Gretchen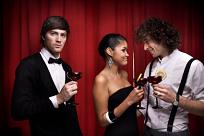 Jealousy, if not too much is a manifestation of love and care.  You feel jealous because you care for the person.  You want to keep the person to your life and you don't want him/ her to be intimate with other people. It's actually a way of protecting yourself and the person you care for.  Sometimes, making a person jealous is also a way of knowing if a person likes you.
How do you make guys jealous?  There are simple ways to do it.  Here they are:
Pretend to be happy with another guy but make sure that you really look happy. Seeing that you are happy with another man kills him because that should be him that makes you smile and laugh.
Go out with friends and have fun. Don't make him feel that you are really affected by your break up or conflict for instance. Let him feel that you can go on with life without him. I'm pretty sure he'll be alarmed.
Be beautiful and blooming.  Flirt with the friends of the boy. You'll drive him crazy if he really likes you.
Stay online on Facebook and Yahoo messenger but don't chat with him.  If he sends you messages just ignore him.  Make him think that you are busy chatting with other people.
Post happy or intriguing quotes on your wall. Make him think of something else.
If you want to make your boyfriend jealous, pretend to be busy texting when you're together.
If you go to the same school, ask other boys to help you with your homework or project.
Get a new boyfriend right after your breakup. He will be envious and jealous and he will do whatever it takes to make you his girlfriend again.
Men are generally possessive and jealous.  They don't want to share what they possess to other men.  They have to protect their ego. Hit his ego and you'll have him again. Good luck!
You might also like
How to Make Girls Jealous
Making a girl jealous is not really a hard job for anyone.  You can do it without exerting so much effort....