How to Make Girls Jealous
posted by: Gretchen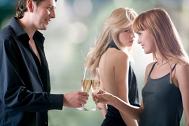 Making a girl jealous is not really a hard job for anyone.  You can do it without exerting so much effort.  It's actually a fun experience because once a girl feels jealous, you will really get her attention.  If you are into making a woman jealous then this post is for you.  We have a list of ways to make the girl feel jealous. Guys, take a look at the following:
If you have frequent communication, try to cut it. Refrain from communicating to her so often. Try to stop sending her text messages or calling her.  She will think and wonder if there's something wrong.  She will be alarmed.  If she gets alarmed, it's a sign of jealousy.
If she is your Facebook friend, go online and check if she's online, too. Stay online and visible to her but don't chat with her.  You'll drive her crazy out of jealousy!
If you are into a chaotic situation, try to look fine even if you are hurting inside.  Make her notice that you seem not affected at all.  She will think that you don't really care about her and she will be enraged.
If you know that she's around, try to ignore her and talk with other girls and try to be happy.  Smile and laugh with the girls. S he will think that you are having a good time with them.  Flirting with other girl, particularly the beautiful and sexy ones is an effective way of making a girl jealous.
Make someone jealous by being busy with other things.  Let her know that you can go on with your life without her.
If you are together, gaze at other girls.  I'm pretty sure your girlfriend will be very jealous and angry.  Women feel threatened when their men seem to be interested with other women.
Post intriguing quotes on your wall.  Write something that she will envy or she will be jealous of.
If you succeed in making her feel jealous and envious, she will be running into you and she'll make sure that you will be her boyfriend.
You might also like
How to Make Guys Jealous
Jealousy, if not too much is a manifestation of love and care.  You feel jealous because you care for...