How to Date an Athlete
posted by: Gretchen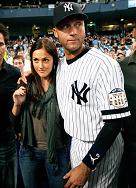 Is it your cup of tea to date a professional or college athlete?  Let me guess, you are probably a person who is also interested into sports but you never tried any before.  Now, you have decided to hook an athlete who could introduce you to the world of sports.
Tips when Dating an Athlete
Below are some dating tips that can be useful to you as you date a pro athlete/player.  Read on.
Be energetic, alert, and enthusiastic.  You are dating a very active man or women so don't be apathetic and lazy.  You're not going to get the person with your excuses.
Keep posted.  Try to get updates about the recent big games.  Don't be ignorant.  At least you can say something when you talk to each other.  It's going to be an interesting conversation.
Set your date in a place where sports enthusiasts go like the stadium or sports arena.  You can take a walk at the oval or you can simply watch the on-going games.
Surprise the person with a ticket for his/ her favorite game like football or basketball games.  Take the front seat.  It's fun to watch a live game.
Embrace the person's world.  You cannot compete with his/ her sports so just go with the flow and show some support.
Learn to play your own sports and encourage him to try them.
If the person is a professional athlete, allow the person to do what he/she has to do and have the confidence that he/she will soon contact you when he/ she is not so busy.
Give your moral support in every game.
If you'd choose to marry an athlete, prepare yourself.  They say athletes can become unfaithful partners due to their lifestyles.  They get the chance to meet many people.  However, it depends on the person.  It does not always happen, though.
Heed my pieces of advice when dating an athlete and im sure can help you.  Good Luck~!
You might also like