How to Date a Young Widower
posted by: Gretchen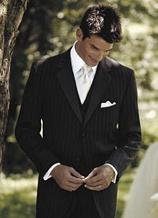 When dating with a person who had a painful experience in the past, you need to face adjustments and take things into consideration.  For instance, you've been going out with a young widower and you feel like your feelings toward each other get deeper and deeper each day but his wife just passed away recently. Before you go deeper, you need to be certain about your relationship.
Guides when Dating a Young Widower
Take a careful look at the following dating tips and learn how to date a young widower.
Don't rush into things.  Take things slow.  He just lost a woman who had been a part of him so give him ample time to mourn and grieve for the big loss.  Give him sufficient time to let the tragic incident sinks in his mind.
Prepare yourself to be a rebounder.  It may hurt you but this happens. You just have to face reality so that it won't hurt you much if it bites.
Go through the stages of the old-fashioned way of courtship.  This will give you the chance to get to know each other more.
Be a cheerful woman and influence him with your joy, smile, and laughter. Brighten his day with a smile.  Make him forget his loneliness.  Be sweet and thoughtful.
Be supportive to him.  If he has a child or children, be respectful to them. Help him with his children's affair at school if they have. Be there when he needs you but don't try to replace his late wife.  You can never do it.
Be his crying shoulders.       Listen to his sentiments.  If he feels guilty because he's dating you, give him space to think things over.  Comfort him with your caress and hug.
Don't compete with the memories of his late spouse.  Don't try to erase them. Those old memories will be there to stay and you have to accept it. Don't be silly. This dating advice is also true to a widow.
Wait for the right time before you engage in any sexual activity.
Relationships like this are never stable.  If you encounter problems, try to overcome them and you'll make it.
You might also like