How to Date a Nerdy Girl
posted by: Gretchen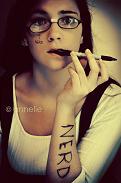 Dating is really fun and exciting if you are dating with a cool and interesting person.  However, it becomes challenging if you date with a woman who is not into social activities but with obscure activities.  They call this kind of woman a nerd.  Nerd men and women are often ridiculed by many, especially bully school boys.
Guides when Dating a Nerdy Girl
Despite ridiculous tags to nerd people, still there are men who fall in love with geek women.  That's how powerful love is.  It embraces imperfections and overcomes obstacles.  To learn more dating tips, take a look at the following:
The first step that you need to take is to catch her attention.  Get close to her and introduce yourself.  Be gentle in dealing with her because she is usually shy and aloof to men, especially to cool men.
Before you ask her to go on a date, you need to establish a good friendship first. You cannot just go to her and ask her to go out with you.  Do you think she would say yes?  Think again, man.  This dating advice will help you gain the trust of the girl.
Get to know her favorite things and activities.  Try to be with her and enjoy the things that fascinate her.  Immerse yourself into the nerdy world.
Take things slow.  Never rush.  Slowly encourage her to join social activities. Introduce her to the world of socialization.  However, don't be very pushy.
Respect her character.  Never push her to do something that she doesn't like.
Try to influence her manner of dressing up.  Take her to the department store and let her try on clothes that she has never worn before.  Tell her she looks better in those clothes.  Shop for her.
Tell her how amazing she is.  Be generous of praise.  Women love compliments from women.
Dating with a geek is not really weird.  It's pretty cool and it challenges your character. Enjoy dating!  Stay in love!
You might also like
How to Date a Nerdy Guy
Most people find dating with a nerd or geek funny. They say these people are boring.  They are often...

How to Date a Hipster Girl
Girls differ in many ways.  Some girls like Indie fashion; others just like to go with the flow.  Some...