How to Cope with Marriage Separation
posted by: Gretchen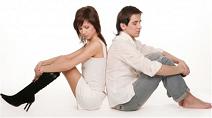 Some relationships do not last long and even marriages do end.  This is so sad but it's the reality that we have to face.  There are many reasons why relationships fail.  There are many marital problems that are hard to solve. Couples have irreconcilable differences and love fades away over time.  No matter what the causes are, it's given that separation happens.  If you try to look into statistics, you can see a great percentage of divorce and legal separation. The sanctity of marriage is now taken for granted.  Even if the Catholic Church does not allow divorce, it doesn't help at all.  You can still see married couples that end up separating.  This leads to other problems like rebellion of kids and depression for those who cannot cope with the separation.
Marital Separation Tips
To help you deal with marriage separation, follow the tips listed below.
Although it is really hard to face separation, you need to accept or just acknowledge it so that you can move on.  You cannot go on with your life if you don't recognize the truth.  You are now separated.
Be strong in spirit.  Everyone knows how painful it is to be left by someone you have loved for so long and it isn't easy to face it. However, being strong is the only way you could help yourself.  Don't let your separation ruin everything you have, particularly if you are the wife and have kids that you need to take care of.
Go out with friends.  You need someone to talk to, someone whom you can trust. You also need to be entertained.  If you confine yourself at home, the more that you will feel sadness.  Try to enjoy things with friends.
Take a break.  Take a leave and go on vacation.  If you have the means, travel abroad.  Go to Virginia or Georgia and experience new environment.
If you think you cannot move on and you start feeling depressed, it's time for you to seek a professional help.  You need counseling and pieces of advice, especially for men or husbands because they are weaker emotionally.
Be open and honest to your kids.  They have the right to know what is happening. Explain to them in a way that they would understand.
Give yourself enough time to heal the wound.  Take your time and do not rush.
Look for support from your family.
You need to settle with an agreement or arrangement regarding your kids.
Try to divert your attention when wedding memories attack you.
It is never easy to deal with separation.  It may easy to say that you separate but when the situation sinks in, it stubs you.
You might also like