How to Ask Someone to Marry You
posted by: Gretchen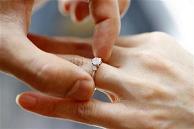 Deciding to settle down is a good decision, that is, if you are really sure of what you are up to.  But if you are thinking twice, it's better not to pursue it or else, you will regret it for the rest of your life.  Now that you are really decided to marry someone, you need to know the things that you should do when doing a big marriage proposal.
How would you Ask Someone to Marry You ?
Prior to your proposal, you need to find time to talk about the possibility or idea of getting married.  By doing this, you can at least know her side if she wants the idea of getting married.  Try to see some signs.  Marriage is something that you both want.  It should not be one-sided.  She should not be hesitant in accepting your proposal.
Make it a surprise or something not so common so that it will be a moment to remember.  Find a moment that she won't be suspecting.
Rehearse what you are going to say to her.   Saying "Will you marry me?" may sound so simple but you have to practice on how you are going to say it.
Find a significant place for your proposal.  Choosing the right place will make it even more exciting and wonderful.
Find the right engagement ring.   See to it that it's something that she will like.  To be able to know her type, try to window shop for rings when you are walking past a store.  You need to remember her choice. The ring should come in a presentable box.
You need to ask her parents for blessings.  Talk to them before you propose.  Most women would not accept your proposal without their parents' blessings.
When getting someone to marry you, it is important to get on one knee as you ask her verbally.  This is necessary.
The most important thing is for you to be sincere in asking someone to marry you. Your love should be pure.  There's no reason why she won't marry you.
See?  You don't need to be rich to ask someone to marry you.  If she accepts your proposal, that will be the start of something new.  Once you're engaged, your relationship will be taken in a different level.  Your wedding day is fast approaching!  You will be changing your Facebook relationship status from "in a relationship" to "married!" That would be fun!
You might also like
How to Win a Pisces Man
Are you attracted to a Pisces man but don't know how to get close to him and catch his attention?  Well,...