How to Ask Someone to Be your Girlfriend
posted by: Gretchen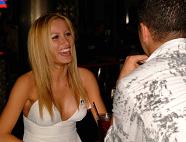 Are you interested to a girl in your class or to someone your friend introduced to you?  Do you want her to be your girlfriend?  Well, you just have to plan carefully so that you can win her.  Read the following tips and learn some things to get her and be your girlfriend.
How to Ask the Girl to be Your Girlfriend
Evaluate and observe the person.  Try to see signs if she likes you.  Spend some time observing the person.  If she shows positive signs, then you have a big chance to get her.  But if she shows negative signs, then there lies the challenge.
Befriend her and try to establish good rapport.  Once she becomes comfortable with you, ask her to go out with you.  This way you can get to know each other more.  Plan a good way of asking her.
Plan a good date.  Choose a nice and romantic place where you can talk about personal things.
Know her interests so that you can have good conversations.  If she's into sports, talk bout sports.  If she loves reading books, then talk about some books that you have read.
Be an interesting person.  It's better to talk a lot than remaining silent throughout your date.  Don't just talk if you are asked.
After some time, give her signs that you want her to be your girlfriend. Make her notice your good intentions.  Tell her exactly what you want.
Make your intentions clear to her.
Show your good qualities as a boyfriend.  Show your loveable side.
Be neat in appearance to avoid turning her off.  Look your best when she's around.
Be confident. Girls love confident men.  But never overdo it.
Do not pressure her to say yes.  Let her think it over.  Give her ample time to make up her mind.
Give her frequent phone calls to let her know you are into her.
Show her that you can love her for who she is.  I am pretty sure you will be able to win her.  Good luck man!
You might also like
How to Date a Popular Girl
Getting the attention of a popular girl is not easy especially if you are not a popular guy.  The popular...

How to Make Girls Jealous
Making a girl jealous is not really a hard job for anyone.  You can do it without exerting so much effort....