How to Treat Hot Spots on Dogs
posted by: Rio Dianne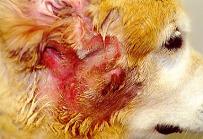 Hotspots?  Like what are these anyways?  Among humans, hotspots are referred to as public establishments where one can have fun.  However, it differs in the canine world as hotspots among dogs refer to their skin are which are actually characterized by inflammation, redness, dry skin, and even hair loss.  This can happen on cats and other pets, too.  This sounds like a big problem so if your puppies or dogs are suffering from such case, here's how to treat hot pots on dogs.  Follow the steps on how to go about treating them.
How to Cure  Hot Spots on Dogs
Primarily, the thing that should be done on how to cure hot spots is to trim the hair surrounding the area of affectation.  This will allow the wound to dry thus keeping away the bacteria causing the condition.
Another thing is to wash the affected site with a mild soap and warm water.  An antiseptic wash would be great, too.  Make sure to cleanse and rinse it properly, and pat dry after.
Ask your vet regarding treatment using hydrocortisone creams and other antibiotics to prevent itching and inflammation on the site.
You can also put a plastic cone on your dog's neck to prevent it from biting, scratching, and licking the hot spot.
Home Remedies for Dogs' Hot Spots
Apple cider vinegar may be applied on the area since it has antiseptic and anti-inflammatory properties thus providing relief for the condition.
Dab a small amount of Vitamin E on it atleast twice daily to soothe the affected site and promote healing.
Cold compress may also be done for 3-5 minutes atleast four times daily.
Black tea works well in providing soothing relief for your pets, too.
These hot spots can make our dogs feel a great discomfort and we wouldn't want to be disheartened with the thought of it, right?  So, prevent your dog from suffering such a case like this.  Follow the tips given above and you will be able to treat the hot spots of your dogs.
You might also like