How to Save Money from Salary
posted by: Feby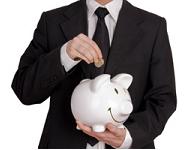 In this world where everything comes with a prize, we should find in our inner self the value of saving.   Frugal living may be added to the picture itself. Saving is could be considered as a gift for some because you could see how easy for them to keep money while some it's a talent because not everyone can do this. In this article, I will show you how to save money from salary.   Along side, I will give also some information on how to save money by following some saving tips below.
If you are one of those people who have work, chances are you could be tempted easily to spend more cash than what you earn.   Sometimes our career and also the environment of our jobs could be the causes why we spend far from what we earn.   Here are simple ways to save money from your pay, paycheck, wage or monthly salary as to whatever you call it:
How You Can Save Money From Your Salary
Make a financial budget.  Identify the things that you must pay and buy out from your wage.  Figure out how much will you spend for your necessities.  Once you have figured that out, get a certain percentage from the extra money then save it.
Keep a record for your expenses.  Track your expenses by writing them down.  At the end of the day, figure it out whether the things that you bought are necessary or just want.
Control your spending.  When you used to eating out then you must cut that out because it can make your wallet really thin.  Instead try to bring food in your office or in your workplace.  You'll be amazed at the end of the month how much you have saved.
Start saving.  Make a saving plan.  This will help you in the long run especially for unexpected situations such as employment's changes like for example losing your job unexpectedly.  If you have built a good foundation in your savings then everything will be fine at the end.  You also have to set monetary goals to keep you going and able to attain it.
When these money saving tips are being followed religiously, then in no time you will be rich and wealthy.   Make saving your number one passion and be wealthy in the near future.
You might also like
How to Save Money Wisely
Saving wisely is one of my weaknesses. I wanna learn too how to save money wisely. As I grow older, I...