Smart Bro vs. Globe Tattoo vs. Sun Broadband
posted by: Gretchen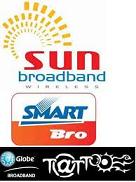 The competition among the three major network providers is getting stiff. They offer the same services but come in different looks. They compete in marketing strategies and special promotions to gain users. Due to their strategies and promotions, costumers are confused. Which one really works best? Which one has the best services? When choosing an Internet Service Provider (ISP), it is always necessary to consider some factors. You can choose from Digital Subscriber line (DSL), Cable or Wireless.  If you want to go wireless, you can have USB stick to have an internet access.  In the Philippines, you can choose among Sun Broadband, Smart Bro, and Globe Tattoo.  Here are some factors to be considered:
Availability of the services on your location should be taken into consideration. Your location must be on the hotspot before you can avail of the service.  Sun Cellular has weak coverage is most rural areas.
The second consideration is the speed or performance. Wifi is recommended for personal use as it has limited speed.
Price should be considered as well. You need to know how it will cost you. You can have Wifi to have an unlimited connection a month for a very low price.  However, this is recommended for personal use only. It isn't a good choice for business purposes.  Price also covers whether you would avail the prepaid service or the postpaid plan.
Support services should also be considered.  The internet provider should be able to help you if encounter technical problems.
Which is the Best?
Let's try to compare Sun Broadband, Globe Tattoo, and Smart Bro. Take a look at the table.
Smart Bro
Globe Tattoo
Sun Broadband
Prepaid Price of modems
Php1,495
Php1,495
Php1,495
Rates
Php10/30 minutes
Php5/5 minutes
Php10/30 minutes

Php50/24 hours

Claimed Speeds
Up to 2mbps
Up to 2mbps
Up to 2mbps; up to 3mbps for postpaid plan1,399
Claimed Coverage
Nationwide (3G, HSDPA or High-speed Downlink Packet Access, EDGE or GSM)
Nationwide (3G, HSDPA, EDGE or GSM)
Metro Manila (3G, HSDPA, EDGE or GSM) and Nationwide (EDGE, GSM)
Postpaid Rates
Plan 799 monthly

Plan 1500

Tattoo 499

Tattoo 999

Tattoo 1499

Easy Broadband 799

SBW Plan 799 SIM only

SBW Plan 799

SBW Plan 649

SBW Plan 1399
There you go!  For more information about their terms and conditions, visit their websites or read some reviews about their services before you decide. Once you have chosen the right provider, you can already go online and enjoy your travel to the cyber world.  Surf anytime, anywhere using your USB Stick!
You might also like
How to Load Globe Tattoo
Globe Broadband Tattoo, formerly known as Globe Visibility, is Globe telecom's offering to the masses...