Globe Tattoo Broadband Price
posted by: Rio Dianne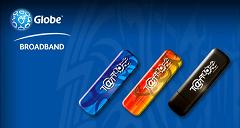 Globe Telecom paved way into the Globe Visibility Broadband service which is now known widely as the Globe Tattoo.  Globe Tattoo Broadband has been making a name in any review and in the market after it was launched. Basically because this will help you gain Internet access in almost any part of the country especially if you love to travel and are always on-the-go.  This uses a USB stick which users will simply plug it in their USB slots, follow some installation procedures, and it's ready to go!   The kit serves as a modem already and lets you enjoy high speed Internet browsing of up to 2Mbps.  DSL connection is the most common in many households, but again if you're one who travels a lot, then why not try to opt for this one. But how much does it cost then?  Learn more as well tell you about Globe Tattoo Broadband price.
Price of Globe Tattoo Broadband Prepaid Kit
You can buy the prepaid broadband kit for a price of Php 1,495. It comes with a free load of Php 100 which can be consumed for five hours of Internet browsing.  This can also be used to make calls or send SMS just like a regular SIM card.  Reloading is pretty simple as it is loaded through various electronic load retailers, prepaid cards, Share-a-Load, and even in BPI online banking.
Price of Postpaid Globe Tattoo Broadband
Yes, if you find it a hassle to load regularly to enjoy connections, you can maximize your Internet experience through Globe Tattoo postpaid.  You can choose from an array of plan details such as:
Php 499 – 45 hours of free Internet use/ month
Php 999 – 100 hours of free Internet use/ month
Php 1,999 – 160 hours of free Internet use/ month
The kit comes in different designs which you can choose from.  To get an updated list of Globe Tattoo Broadband price, visit your retail stores and enjoy the maximum benefits you can get from this one.  Enjoy!
You might also like
How to Load Globe Tattoo
Globe Broadband Tattoo, formerly known as Globe Visibility, is Globe telecom's offering to the masses...

Globe Wimax Review
One of the best wireless broadband internet providers in the Philippines includes Globe Telecom. It offers...