Best Present for a Guy
posted by: Gretchen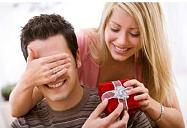 There are a lot of things that you can give your guy.  Actually, there are many choices out there.  What makes it difficult is that you just can't decide what to give him.  You want to give something very special or unique to him on his birthday or on Christmas.
We'll help you decide by giving you some gift or present ideas.  I hope the list below is going to be of help to you.
Top Gift Ideas for a Guy
Your own creation could be the best gift that you can give.  Use your creativity.  Compose a love note or poem for him.  This is best if your man knows how to appreciate such.
Bake his favorite cake if you can.  This is such a sweet birthday present. You can also cook for him and prepare dinner for two.  It's going to be very romantic.  Remember, the best way to a man's heart is through his stomach.
Men normally love gadgets.  If you can afford to give him one of his favorite or dream gadgets, then that would be good.  Some gadgets include digital camcorder, cell phone, PSP, iPod, and a lot more.
A classy watch is also a good gift idea for him.  Maybe it's time to replace his old watch to a classy one.
You can also give him something for his favorite sport hobby.  If he's into basketball, then maybe you can give him jersey shirt and shorts, wrist band, or anything related to his sport.
If your boyfriend is so stressed out at work, treat him a professional massage.  It's going to make him really feel good.  If you can do it yourself, that's going to be much better.
A bottle of perfume is also a nice present for your boy.
The greatest gift that you could give a person is your love and care.
Have you decided what to give your man?  Girl, don't spend all your time thinking.  Good luck!
You might also like