Best Gift for a Friend – Perfect Present for your Bestfriend
posted by: Feby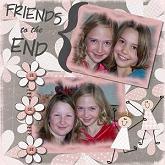 A true friend is always there beside you no matter what.   He or she is the person who knows you inside and out.   The person who knows exactly what's going on in your life even you never said a word.   A friend is also someone whom you can trust and share the deepest part of you.   A friend is special person who really deserves only the best from you.   On his or her birthday, it is just nice to give him back all the good things he has done for you by giving him the best gift for a friend on his wedding or birthday or during the celebration of your friendship.   What would be the perfect present to give for your bestfriend ?  The greatest present that you could give to a friend depends on the personality he has and his interests.
Here are Some of the Top Present Ideas that you could Give :
Personalized gifts.  If you are looking for unique present to give to a friend, you can try making some poems about your friendship. Or you can arrange some photos you have saved for years in a frame or in a scrapbook, include some favorite quotes of yours.
Gift basket.  Spare the fruits and flowers in a basket.  Instead, place all his/her favorite stuff in there.
Gift certificates.  Maybe it's not a cheap present but I know he/she will definitely love it.  You can pamper yourself together.
Movie or Concert tickets.   It is one of the greatest present you give and enjoy together.
In giving presents, you should think it's not about the value or how expensive it is or how cheap it is as long as you are able to show your love and appreciation for his/her existence in your life.
You might also like
How to Date a Family Friend
When dating someone who is close to your family, there are many things that you have to put into consideration....