Best Gift for 1 Year Old
posted by: Gretchen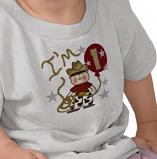 The loveable baby of your friend is turning one next month!  Of course as a close friend, you are expected to attend the grand party with a present or gift.  Are you running out of gift ideas for a baby?  Don't panic because we are here to help you.
Best Gift Ideas for One Year Old
Blocks. Blocks are one of the most popular baby toys.  These are very helpful in the development of babies, particularly their fine and gross motor skills.  It brings out and enhances the creativity of a child.  The child will learn how to build tall towers.  Blocks are educational to children.
Playskool Busy Ball Popper.  This toy is a big hit with babies.  It appeals to a child's desire for repetition plus the fun and lively music. It's really exciting!
Feeding Supplies.  A one-year old child is now ready for bowls, plates, cups, spoons, and other feeding supplies.  Make it fun by choosing a set featuring the famous cartoon characters like Winnie the Pooh or Bugs Bunny.
Nesting Toys. These toys help kids with regard spatial relations. Children will be fascinated by this set of toys.
Baby Doll. If the baby is a girl give her a doll-a talking or a walking doll. This is going to be useful to her. The child is going to learn to interact with the doll.
Bike/ Ride on Wagon.  This is very fun for babies at this age.  They can use this as a walker.
Outdoor play center to climb on.  This will help him develop his fine and gross motor skills.  The baby is going to have fun playing with an adult or another kid.
Babies love to play so give them the toys they need.  In addition to the list, the Whoozit by Manhattan Toy is a great and popular toy that you could give as a present.  Use your creativity to come up with a unique gift.
You might also like
How to Date a Family Friend
When dating someone who is close to your family, there are many things that you have to put into consideration....

Best Gift for Christening
Your friend gave birth to a wonderful baby recently.  Now, they are preparing for the baby's baptism....