Best Birthday Gift for Mom
posted by: Feby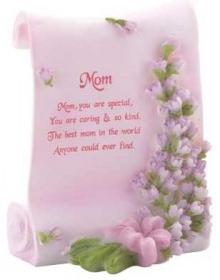 When you stumble down, who is the first person who lifts you up?   When we couldn't resolve things on our own when we were kids, who is that someone who patiently teach us to make things better?   That first person who is so willing to be there for us is our mom.   She's our first teacher.   She's our mentor.  She's our number one fan.   She has done countless and wonderful things for us, isn't it just right to make her happy on her birthday ?   What are the best gifts for mom ?
Our mothers will be happy to receive any present from you but since this is a special day for her, the present should be really perfect and nice.   It's the thought that count right?   Here are some of the birthday presents that she would love to receive:
Personalized birthday card – Your mother will be glad to read a personalized card from you.  Write your thoughts and how thankful you are for having her as a parent.
Cake – Surprise her with the best cake in town in the morning before she could actually get up from the bed. You can also try to bake your own cake to have that a little touch of effort and love.
Gift Cards – One of the best gift ideas you could give to your mom. Whether it's a gift card to a salon or department store.  Pamper your mom on her special day.
Gift Basket – If your mom likes so many things and you want to give them all, try this.  You can place in a there her favorite perfume, lotion, and so on.
Edible Arrangements – Your mom would love this!  You can send her or give her some edible arrangements including her favorite food.
Flowers – A bouquet of her favorite flowers will definitely be nice.  Give her this first thing in the morning to brighten her special day.
Parents are God's gift.   Whether it's your dad or mom, you should be thankful in everything they give you and make an effort to make them feel special during their birthdays.
You might also like
Best Gift for Guys
When looking for gifts for special men in our lives we cling to buy a unique and simple present for we...