How to Cook Sweet and Sour Pork
posted by: Rio Dianne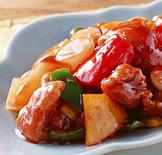 One of the recipes I love is the sweet and sour pork.  Originally, this is a traditional Chinese food, but has found a space into Filipino dish.  The recipe is usually done with variations and it depends on the preference of the one cooking.   But whatever way it is, I really like the dish and yeah, it's making me hungry now. Are you planning to cook sweet and sour pork, but you don't know how to?  Follow the steps below for an easy recipe of the dish and cook them right at your own kitchen.  Here's how:
How to Cook Sweet and Sour Pork
Ingredients:
½ kilo of pork loin, sliced into chops
1 small can of pineapple chunks
1 large onion, sliced thinly
3 cloves of garlic, minced
1 red and 1 green bell pepper, sliced in thin strips
4 tablespoons of cornstarch
3 tablespoons of ketchup
2 tablespoons of soy sauce
1/3 cup of vinegar
1 teaspoon of salt
1 tablespoon of sugar
How to Make It:
Boil pork loin in a pot with 2 cups of water and ½ teaspoon of salt. Boil until tender and keep the pork stock to be used later.
Blend 2 tablespoon of cornstarch and soy sauce, and then coat the pork with the mixture.
Fry the coated pork until it has become golden brown, and set aside.
Dissolve the 2 tablespoons of cornstarch on a half cup of stock, and set aside.
In a pan, sauté garlic and onions. Add the bell peppers, pineapple chucks as well as its juice, ketchup, vinegar, sugar, salt, and the dissolved cornstarch mixture. Stir until the sauce thickens.
Add the fried pork and let it simmer.  Serve hot.
This is how to cook sweet and sour pork.  The steps are really easy that you can even prepare this for dinner or other family gatherings.  Enjoy your meal!
You might also like
How to Cook Pork Humba
Adobo is the most popular Filipino dish in the Philippines. A lot of foreigners have tasted this dish...