How to Cook Sopa de Fideo
posted by: Feby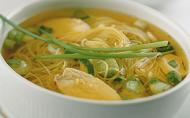 It has been my passion to cook and try different dishes.   I love feeding my family with new found recipes but nutritious one.   And since I'm from obese family I make it a point to serve a healthy meal and I make sure the calories from that food are not that high to keep our health balanced.   I love cooking and eating! I think these two things go side by side.   I tried cooking many dishes already but I haven't tried cooking any Mexican recipes yet.   And since my family love to eat pasta, I cooked Sopa de Fideo for them.   Sopa de Fideo is a healthy recipe that your whole family will love.    If you want to know how to cook Sopa de Fideo, then I'll teach you how.   Just follow the simple steps below and surely you will learn how to make it.
Sopa de Fideo Ingredients
1 kilogram of chicken or pork
250 grams of Fideo (vermicelli)
2 cups of chicken broth
1 tablespoon of cooking oil
1 cup of onion (diced)
1 large garlic ( minced)
1 cup of water
3 tablespoon of tomato paste or sauce
2 teaspoon of dried herb ( thyme, oregano)
1 tablespoon of taco seasoning
Black pepper
Salt
Procedure
Heat water in a saucepan. Cook the meat. Set aside.
In another saucepan, heat the oil.  Pour the broth with garlic, onions and dried herb.
Then mix the pasta to the mixture in the pan. Stir constantly to avoid burning the Fideo.  If the pasta is lightly brown add the water and tomato paste/sauce.  Stir until the sauce is evenly blended to the pasta.
After the pasta has been blended well, place the meat, add pepper and salt to taste.
Simmer for 15 minutes.
Finally serve the dish with tortillas.
It's so easy and fun to cook right?  Try and enjoy this healthy dish with your family.
You might also like