How to Cook Siomai – Ingredients and Recipe of Siomai
posted by: Rio Dianne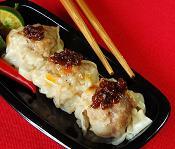 Generally, shumai or often called as siomai originated from Chinese cuisine. This is actually the generic name for steamed dumplings.   This dim sum alongside siopao is actually loved by a lot of Filipinos.  This can be made with shrimp, prawns, or other kinds but pork siomai is actually the most common especially if it's with chili garlic sauce and kalamansi.   Personally, I love this that is why I am eager to look for recipes on how to cook siomai.  Luckily, I have found some on the Internet and I'm going to give it a try.   However, I'd like to share this article with you who are a pork siomai aficionado.   How to cook siomai,  you ask?  Here's how:
How to Cook Siomai
Ingredients:
½ kilo ground pork with a bit of fat
¼ kilo shrimps
2 eggs
1 small water chestnuts (Singkamas); chopped
1 small carrot; grated
3 tablespoons spring onions; chopped
3 tablespoons of cornstarch
2 tablespoons of soy sauce
2 teaspoon sesame oil
2 tablespoons of sugar
1 teaspoon rice wine
Black pepper
How to Make It:
Combine all the ingredients in a large bowl altogether.
Mix the ingredients continuously inside the bowl for atleast 4 minutes. Leave it overnight in the refrigerator so that it will be soaked with flavors.
The next day, put a tablespoonful of the filling in the center of the wanton wrapper.  Be sure that it is compact and doesn't have any air inside.  Fold and seal.
Put the filled wrappers on the lightly greased steamer. Be careful that it's not too overcrowded.
How long you are going to steam it, you ask. Well, steam for about 30 minutes under medium heat. Do not overcook it so it won't end up dry.
Serve with soy sauce, chili-garlic paste, and kalamansi.
Cooking this dish is really easy, right?  But like any other cooking, you're going to start with a trial and error until such time that you were able to cook them perfectly.  Finally, a lot of siomai stand have been blossoming all over and that you can actually go for them for business franchise.  So if you are interested, you can look for the Siomai House website or visit Master Siomai. Enjoy your cooking!
You might also like