How to Cook Laing – Laing Ingredients / Recipe
posted by: Feby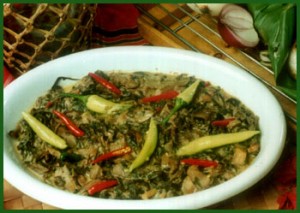 Bicol region is not only known for their perfectcone Mt. Mayon but also known for their mouth watering bicol recipes such as Laing. It is one of the many Filipino dishes that everyone should try. It has this distinct taste of being creamy and spicy at the same. It is being sought after by everyone that has a panlasang pinoy.
This authentic lutong pinoy is so easy and quick to prepare. All you have to do is buy the ingredients and follow the simple steps that you can read below on how to cook Laing. So, here are the steps and the things that you will need.
Ingredients:
1 pack of taro leaves ( made sure that it is sun dried well)
½ kilo of pork (belly part) sliced thinly.
½ kilo of shrimp
3-5 tablespoons of shrimp's paste
3 cups of coconut milk ( fresh or canned)
Onion (chopped)
Medium sized ginger ( sliced into thin strips)
1 bulb of garlic ( minced)
Chili ( number will depend on how spicy you want it to be)
Fish sauce
Salt
Pepper
Procedure:
Pour the coconut milk into a pan and bring to boil.
If the coconut milk has reached the boiling point already, you can add onion, garlic and ginger into it. Simmer for few minutes until you can smell the aroma from the spices.
You may now add the shrimp paste and pork. Stir until the shrimp paste is mixed well. Then add the chili and simmer for 10-15 minutes or until the pork is cooked.
Add taro leaves and fish sauce. Simmer for 15 minutes.
Finally add the shrimps, cover the pan and cook for few minutes.
Serve with steamed rice.
In cooking this food or recipe, avoid stirring too much especially after putting the taro leaves to avoid itchy properties in the dish. Made sure also that the taro leaves and coconut milk are cooked well before serving.
Enjoy your meal!
You might also like
How to Cook Bicol Express
I am a native Ilocana from the Philippines, I am used to pinakbet, dinengdeng, mostly with bagoong (fish...