How to Cook Kare Kare
posted by: Rowena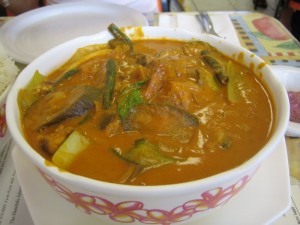 When looking for something to cook on different occasions, definitely we look for recipes that are easy to prepare. Something special, something that gives a satisfying taste. The Filipino recipes like pork sinigang, adobo or unusual seafood recipes are simple, authentic and one of the best. Kare kare is one of the classic Filipino dishes that that every Pinoy loves to have in their dining tables especially during special occasions. A tasty dish made usually of ox tail and some vegetables like talong or eggplant, sitaw or string beans and kalabasa or pumpkin with thick sauce made from grinded roasted peanuts or peanut butter.
The following are the Ingredients on cooking Kare kare:
Kare-Kare Ingredients
500 grams of beef (sirloin or round cut) in cubes, beef tripe or oxtail or it can also be a combination of beef, tripe and oxtail
1 ½ cups of peanut butter
1 clove of garlic, minced
1/8 cup grounded toasted rice
¼ cup cooked bagoong alamang
2 pieces, medium- sized onion, diced
2 tbps of cooking oil
2 tbps. atsuete oil
2 pieces eggplant, sliced
½ bundle sitaw (string beans)
½ bundle Pechay cut into 2 pieces
½ banana bud blunch in boiling water
4 cups of water
Salt
How to Cook Kare- kare
Wash the ox tripe, leg and tail. Put them in a pan with water.
Get a slow cooker for your Kare kare. Boil and remove the appearing scum. Cover the pan and wait. Let it simmer until the meat is tender. The estimated time will take 4-6 hours.
Remove it from heat, strain and let it cool for several minutes. Then cut the meat into small pieces and keep the stock.
Heat oil and atsuete oil in a big pan.
Next sauté the onions and garlic and wait until golden brown. Add the stock, toasted rice and the oxtail, leg and beef and peanut butter at once. Boil and simmer for about 15 minutes. Put salt to taste.
Then add the vegetables, string beans, eggplant, pechay and the banana bud. Boil for another 2 minutes. Remember not to overcook the vegetables.
Serve it hot with bagoong on the side. There are different versions on how to cook Kare kare, whatever way you would like to adapt, it's still perfect as long as you put your best. Put love on it and let it be the family's favorite dish. Yummy! Have a happy meal!
You might also like
How to Cook Bicol Express
I am a native Ilocana from the Philippines, I am used to pinakbet, dinengdeng, mostly with bagoong (fish...

How to Cook Tikoy with Egg
Annually, Chinese New Year is celebrated and you would always notice different recipes that Chinese families...