How to Cook Igado (Pork and Liver Stew) – Igado Recipe / Ingredients
posted by: Feby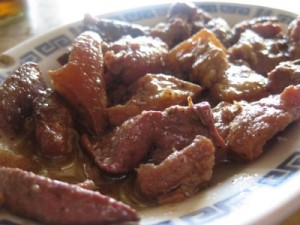 Ilocos Region is not only known for its breathtaking sceneries but also because of its mouth watering authentic dishes. Whenever I go home to Ilocos Norte, my vacation is not complete without dropping by to my favorite restaurants and have a taste of my favorite Ilocano dishes. I even buy and bring some to Manila. Some of Ilocano dishes or foods that I know and love are pinakbet, longganisa, empanada, miki and Igado. I usually post some articles about Ilocano recipes that I have mentioned whenever I have free time.
Anyway, in my previous posts, I have written some Ilocano recipes but haven't included Igado yet. So today, I am going to write about how to cook Igado the Ilocano way.
How to Cook Igado (Pork and Liver Stew)
Here the ingredients you need to prepare:
500 grams of pork loin
250 grams of liver
1 small can of green peas
1 large potato, cubed
1 large red bell pepper, squared
3 cloves of garlic, minced
1 small onion, sliced
3 bay leaves ( laurel)
½ cup of soy sauce
¼ cup of vinegar
½ teaspoon of ground pepper
1 cup of water
Cooking oil
Cooking instructions you need to do on how to cook/make igado the Ilocano way:
Marinate the pork and liver with soy sauce, vinegar, bay leaves and pepper. Cover and let it stay for an hour.
After an hour or more, heat the cooking pot and put a little amount of cooking oil. Sauté garlic and onion until soft. Put the marinated pork and liver. Stir for a couple of minute. Pour the marinade into the cooking pot. Add water. Boil and cook the meat until tender.
Add the potatoes. Simmer for 5 minutes.
Put green peas and bell pepper. You may put some seasonings to add the taste. Simmer for another five minutes or until the sauce thickens.
Remove from the heat. Transfer to the serving bowl. Serve hot with rice.
I hope this article helps you in anyway especially if you are just like me who often crave for Ilocano food. This is another Filipino recipe that is worth trying for.
You might also like