How to Cook Bicol Express
posted by: Rowena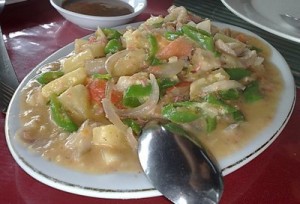 I am a native Ilocana from the Philippines, I am used to pinakbet, dinengdeng, mostly with bagoong (fish sauce) but once I have tasted the specialty of Bicol, they call it bicol express, I started to appreciate this spicy dish cooked in gata or coconut milk. Filipinos are known for their specialties. Sisig, Kare- kare, pinakbet, and many more. They are fond of discovering and bringing in new Filipino dishes that satisfy every starving stomach.
Maybe you would want to know how to make Bicol Express, I'm gonna teach you how. But first prepare these ingredients:
Bicol Express Ingredients
1/ kilo of pork
1/8 cup of vegetable oil
¼ cup of onions, chopped
1/8 cup of ginger (turmeric), chopped
½ tbps of garlic, chopped
1 tbps of dilao
¾ tbps of siling labuyo (hot chilli peppers), chopped
¾ cup of bagoong alamang
3 cups of coconut cream/ milk
1 cup of hot green peppers
¾ cup of sweet red bell pepper
These are the Steps on How to Cook Bicol Express
Slice the pork into cubes.
Remove the seeds of the green peppers and bathe the peppers in salted water for 10 minutes then drain and chop.
Put cooking oil in the pot and sauté the garlic and onions. Pour in the ginger, the dilao and the cubed pork. There is a need for nonstop stirring for 5 minutes then add up the bagoong alamang and the siling labuyo chopped into pieces.
Mix and stir the mixture for 15 minutes. Cover the pork with the sauce.
Pour in the cups of coconut milk then throw in the red and green peppers. Cook for about 20 minutes.
Then add salt to taste.
Now you know the steps on how to cook the You will not regret trying this out. The food is worth the wait. I'm sure you'll love this recipe. Enjoy your meal.
You might also like
How to Cook Dinengdeng
Dinengdeng is an authentic dish from the Northern part of the Philippines. It is one of the dishes and...

How to Cook Pinakbet
Pinakbet is a very known dish among Ilocanos. We are fond of recipes that require bagoong. It is the...

How to Cook Shrimp Paste
Shrimp paste is very popular in our place, aside from the well-known sukang Iloco and bagoong, we usually...